And Now You Win Free Chai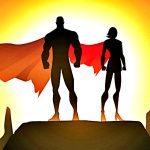 Remember yesterday when I told you about my adventures in making iced chai? Remember when I told you how easy it was? If not, you were either MIA or have the memory of an earthworm. If it's the latter, I feel sorry for you and hope you win this giveaway.
(And, in that case, read all about it here.)
Today, though, Tipu's has offered to give a 4-oz. bag of chai—you can make both hot and iced with the mix—to one reader here.
Here's how you enter the giveaway. Do one of the following:
Like Tipu's Chai on Facebook.
Follow TipusChai on Twitter.
Tweet the following: I want to win @TipusChai at http://bit.ly/fbKFGJ
Come back and let me know what you did or else I'll have to award the prize to the person with the strangest middle name.
(You should know, I almost made a lame joke in No. 3, writing something like, "Tweet the following: I love @NotSuperhuman!!" But then I thought someone scanning this post might actually do it. Not that they wouldn't deserve it—they skimmed, after all. But I figured things could get out of hand from there.)
So! Tweet and follow and like to your heart's content. Then hit the comments. (EDITED: There's now a better photo of what you'll be winning up there. Enjoy, folks.)
Random! Question! Of! The! Day!: Favorite piece of winter clothing? For me, it's wool turtleneck sweaters.
But first, if you've seen Inception, you NEED to see this. (If you haven't seen Inception, back away slowly.)