The Most Important Thing You'll Learn Today*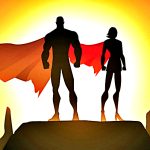 photo by mare.bowe
There's something I've been meaning to talk about here. Andrea's post the other day reminded me again and, well, now is as good a time as any. Here's the crazy revelation, my gift to you:
Skinny will not make you happy.
Absolutely crazy, right?
Growing up I was always thin, an awkward bean pole with big glasses (it was the '80s!) and metal braces (it was the '90s!). Ten years later, I still weigh what I did in high school and sometimes wear clothes from then because, hey, why not? My point is, I've always been thin.
Does that make me happier than someone who weighs more? Someone who struggles with her weight?
Absolutely not. I'm thankful I don't gain weight easily—mainly because if I weighed any more my knees would hurt worse. But there's nothing about my size that makes the sun shine any brighter, the roses smell sweeter, or my sleep any more restful (unfortunately).
And I mean this:
I'd rather weight more and have the ability to run, bike, dance—heck, walk—than be thin and couchbound with burning feet. I'd rather a glass of wine go to my waist than cause my feet to pulse with pain.
I know it's easy to think, "If I could just lose the last 10 or 20 or 50 pounds, my life would be perfect." Here's the harsh reality: It won't. It might be the same. Or you could lose your job, go into debt, and end up worse off than you were before you could fit into your skinny jeans.
Of course, I'm not downplaying the frustration that comes from wanting to lose weight when you can't. I know it's a real struggle.
But don't think for one minute your happiness hangs on your scale's reading. Thin doesn't equal happy. Not now. Not ever.
The end.
*unless you learn the lotto numbers a day early.