The Not Superhuman Blogaversary Fiesta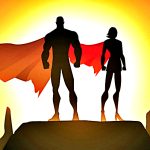 photo by pretty in print
It's a party animal. Get it?
I can't believe this. It's October 2010. Normally hitting Oct. 1 is anticlimactic for me, but this year it's right up there with Oct. 31. And that's saying a lot since I can't excuse eating 41 mini candies today like I can on Halloween. (Not that I overdo it on Halloween. Psh.)
This year it's special because I've officially been blogging for one year. That's 365 days. I know.
This is particularly important since, when I started, I figured I'd quit some time around Thanksgiving. I mean, I quit Brownies and ballet growing up, why not blogging?
Well, I proved myself wrong. Take that 2009 Tracey.
Not only have I kept it up, but I've enjoyed it. And I enjoy you. And I enjoy knowing that someone somewhere out in this wild Internet world is reading my nonsense. I don't get it, I just accept it.
So to celebrate (commemorate? memorialize?) this occasion, I thought I'd do a series I've cleverly name Blogaversary: The Series. (Seriously, the mind? It Never. Stops. Working.) Anyhow, here's what you can expect during this edge-of-your-seat, heart-pounding series:
1. A trip down Memory Lane. (My Memory Lane, that is. You can take your own trip with your own memories if you want, but I can't help you with that.) I'll recap the year without making you snooze (fingers crossed) and link to some of my most favoritest posts ever.
2. Secrets revealed. OK, not really secrets per se but more like some things about me you probably don't know but might find interesting. Or not. And I promise not to include "I hate onions" on that list because I think most of you got that by now. And if you missed those posts? I HATE ONIONS. There.
3. You questions, answered. More on that later.
4. The contest. Did you seriously think I'd hold a birthday party without goodie bags? (You did? What kind of mother of the birthday blog do you think I am? Seriously people.) The winner will get a Prize Package of Totally Cool Things, which will include a batch of homemade cookies and some beauty product freebies. It may include other things, but you'll just have to be surprised.
Entering the Blogaversary Contest is easy: Leave a comment here asking me anything you want. It can be about anything—healthy living, blogging, my laundry list of medical problems, the possibility of life on another planet, whatever. (But if you don't ask a question, you're not entered. Which is cool. I'll still love you if you say, "Hi" in the comments.)
You can enter as many times as you like until Thursday, October 14. I'll announce a winner on Friday.
And just to get us going, here's how the Q&A might work…
Hey Tracey, now that your most favorite show of all time is over, what do you watch on TV?
First, a moment of silence for Lost.

So, it's over and the networks are busy trying to serve us crap and call it Lost-like. Mm hm. The only thing that even comes close is Fringe. So I watch that …

… and, ya know, other shows that leave me disappointed. (I'm looking at you Bones. You should be ASHAMED of that pathetic storyline.)

If you were a secret agent, what would be your weapon of choice?
You know, I always go back and forth on this one. Nun chucks are obviously cool, fun, and useful—a triple threat. But then again, I'd hope I was the kind of agent who could take a guy out with her bare hands. So I'll go with that.

Butter pecan or mint chocolate chip ice cream?
Neither. Chocolate chip cookies.
See? Not so hard. So go ahead and ask away…