I Think We Have A Winner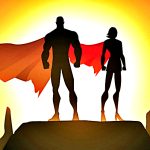 photo by alamodestuff
Why hello there. Hey look, it's Friday.
Hey look, I'm off today.
Right at this very minute (unless of course you're reading this after 12 p.m. or on Saturday or Sunday), I'm headed to the doctor to discuss lab results for this EM. I'm really hoping he has some good news. As in, he figured out what's causing the EM and happens to know an easy, quick way to fix it.
Expect updates next week. Pray for a good update or else fear a post like this:
All of my tests came back clean AGAIN and all I want is to be SEVERELY DEFICIENT in something, anything or to have contracted some DISEASE but no, I'm HEALTHY. STUPID HEALTHY.

(tears)
In other news, The Man and I have done so well with sticking to a meal plan this week. You'll remember how we gave in to the pizza craving and ordered a pie last Thursday. Well, last night we gave in to the pizza craving and made our own.
A. We saved twenty bucks.
B. It was so easy.
C. It was so good.
D. Yeah, the good thing again.
We used Trader Joe's dough and a jar of tomato puree instead of sauce since I generally hate every sauce I eat unless it's at an Italian restaurant. (Seriously, don't ask. Let's leave it at this: I'm a picky eater.) Then we topped it with fresh mozzarella and finished it with basil. Oh my goodness … see C and D.
In other news, we have a winner of my Blogaversary Contest. This winner gets a batch of homemade cookies and some beauty products. It's a pretty great package.
Random Number Generator says … #9
Heather C, you're a winner! Send your address to tracey (at) notsuperhuman (dot) com and I'll get baking.
Since the price of an entry was a question, I thought I'd answer Heather's right now. I'll get to the rest next week.
She asks, How do you find the time to blog everyday? Do you write several blogs over the weekend for during the week or do you really write one a day?
I'm not going to pretend I'm even slightly as busy as anyone with kids. I've been around my nieces and nephews and I know how crazy tiring it can be after even one day. (On a side note: Kids are forever in motion. Even when they're resting. I therefore surmise that mothers are forever exhausted.)
I do, however, think I'm pretty busy. Because we only have one car and The Man works 30 minutes away—which is one to two hours away in D.C. time—we have to get up really early in the morning.
I usually get to work around 7:15—give or take a few red lights—so The Man can wade through the parking lot that is Northern Virginia. I work until The Man makes his way back through D.C. traffic, which can be anywhere from 5:30 to 6:30 p.m.
Then there's the whole make dinner, do the dishes, make tomorrow's lunch, get ready for bed thing. Usually there's a couple hours in there for relaxing.
And that is when I do my blogging.
I think it would be brilliant to write a bunch on the weekend. Genius even. However, on the weekends I kind of go into a no-blog zone. I don't read 'em. I don't write 'em (aside for Monday's). Unless there's special circumstances, I don't work on it.
I'm OK with that. I need "me" time.
Speaking of "me" time … I'm signing out.
If you own a blog, do you usually post on weekends? If so, does it every wear you out? Do you keep up with your blog list on weekends or do you take some away-from-the-computer time?