In Which I Get Mushy-Gushy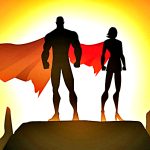 photo by johnburke
Quiz time.
What's worse than eating peanut butter and jelly for lunch?
Anyone? Anyone?
OK, I'll tell you. Eating peanut butter and jelly for lunch for the past week straight. I know you're all on the nut butter bandwagon, and I'm not dising on peanut butter in general. Still, eating it for a week straight is enough to make me hate the stuff from now until eternity. You'd think swapping jelly for honey would make a difference. But it doesn't. The downside to going three weeks without grocery shopping. Is there an upside to that? I don't think so.
So I just read a study that said having solid relationships is associated with living longer. The study says that people with strong relationships live an average of 3.7 years longer than those with weaker relationships. I know this study is talking about relationships with people you've, you know, actually met. And that's why I'm thankful for my friends—the ones I could pick out of a lineup.
I guess I owe all of you a big fat Thank You, too. Because I think blog relationships totally count. One of the researchers even said: "[Friends and family] help support good health habits: They remind us to put that seat belt on and ask us about that pain we've had, have we had that checked out? That may be the biggest factor."
Sound like anyone in particular? Like, maybe the entire health blog community? Yes, yes it does.
So, friends, every time you leave a comment here I gain another hour of life. It's like It's a Wonderful Life: Every time a bell rings an angel gets its wings. Or something like that.
It's really sweet of you because, as you know, my cranky knees make me about 85 years old and at this rate I'm going to be a centenarian before I hit my real age of 45.
I'm going to get a bit mushy here. Consider that a warning if you have a heart of stone and need to skip this part.
I didn't consider the community when I started blogging. I considered the fact that there were probably other people out there with knee pain who might want to know my story. (Because everyone obsesses about their injury like I do and wants to know every single detail of everyone else's injury too. Right?)
Well, imagine how shocked and awed I was to find out that there were real live people on the other end of this Internet thing, and these real live people happened to be really cool and fun and supportive and a lot of other gushy words. In short, you're great.
Hey, Tin Man, come on back. I'm over the whole mushy part.
I'll end with something a little more manly to balance things out. Grunt, grunt. You guys are, um, you know, kinda cool.
Oh, by the way, if you haven't heard, I'm spreading the love. I'm giving away 16 beauty items on Monday. Friday is your last day to enter, so head to this post to join in the fun.
What do you get out of the blogging community?