Fit and Clean. Or Clean and Fit.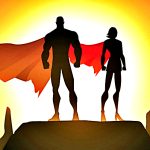 photo by melissa ann barrett
All right, guys. We've had some fun the past couple of days, but now it's back to my serious posts. (Don't laugh. I can be serious sometimes.)
If you've read my blog for any amount of time, you may have gathered that I'm a bit of a neat freak. The Man says I have a psychological disorder, but I'm not that OCD. So I like my closet color-coordinated and the labels on my spices all facing the same direction. I think it makes me organized, not psycho. I'll let you judge silently from the other side of the Internet.
Anyhow, I'm also a big fan of cleaning in general. (That's a bummer for The Man who has to do the heavy lifting, vacuuming, and other major cleaning since my knees hate me. I give him major props for that.) So I was interested to read about a study that found a connection between having a clean house and being fit. The findings, which researcher NiCole Keith presented at the American College of Sports Medicine's annual meeting, could mean one of two things:
Fit people clean a lot.
Cleaning can make you fit.
The study didn't determine a cause and effect. The researchers just compared the fitness level of nearly 1,000 African Americans with the state of their homes. The homes with spick and span interiors had residents who got more physical activity.
You could say that some of the participants were so well off that they hired housekeepers to keep their homes shining while they plugged away at the gym. But since the study subjects had similar backgrounds and came from two areas of the same city, I think that isn't likely the real cause.
The study might not give a definite answer, but I have to say: Cleaning, it's hard work. Sure, if you're already fit you'll have an easier time crouching, lifting, and otherwise detail cleaning your home. But if you're out of shape—it's a good way to get a total body workout.
Not counting those activities I can't do because of my knees, washing the windows gives my arms, upper back, and shoulders a good workout.
What household chore do you count as exercise?