The Importance of Today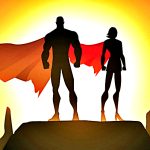 photo by jeremyok
Only we weren't blonde.
I was just about to tell you to mark this day down when I realized its importance is meaningless to every single one of you. Except The Man. He generally agrees with me when it comes to ranking things in order of importance. (For instance, he wholeheartedly agrees that bread pudding is the best dessert ever, even counting chocolate cake which is pretty amazing. He also agrees that the apple tart we had twice on our honeymoon was the only non-bread pudding dessert to ever take the No. 1 spot.)
So where was I before I got off on that amazingbestestever apple tart tangent? Oh, right, today. And how it's really important because it's the first time in all of my years living in the DC area that my younger sister has visited. No, she's not a hermit. No, she's not afraid of driving or flying. Yes, she works retail and doesn't get weekends off. Yes, I've been up to visit her a bunch of times even though she never set foot on Virginia soil. (Yes, I'll be rubbing this in the entire weekend.)
I'm not sure yet what we're all going to do this weekend. What with my gimpy can't-walk-anywhere knees and my sister's funky can't-eat-anything stomach we're like a really, really, like ridiculously good-looking geriatrics ward. (And yes I love Zoolander and quote it abundantly and often.) It might involve a lot of sitting around hungry. Or her running laps around me while I eat. We'll see.
So now, before we go have so much fun you'll be jealous—unless you're doing something like going to the beach, in which case I'm jealous—I'll leave you with the Craziest Thing I Heard All Week. Straight from the mouth of my mother, who called me while packing for the trip.
MOM: Do you have eggs and cheese?

TRACEY: Yes.

MOM: You sure? Because we can bring ours.
From Massachusetts. Five hundred miles. Oh, Mom.*
Let's skip the routine "What are your weekend plans?" question today, shall we? Just for the sake of total randomness, tell me a silly childhood memory.
*No, she didn't travel with the eggs and cheese. My sister and I talked her out of it.