A Big Sigh of Relief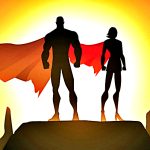 photo by bfick
This post has nothing to do with health—unless, of course, you count my mental health in which case this post has a lot to do with health. Namely, my sanity.
Because I like to appear somewhat mysterious to you (What are you saying—that there's no mystery to me at all? Fine, I agree.) I haven't written about something big going on in my personal life. No, I didn't get asked to play Reese Witherspoon in a film about her rise to fame. (But I could! I watched The Man in the Moon many times growing up.) And, no, Oprah didn't just call me wondering if she could deposit some money into my bank account because hers hit its limit. Though that would be cool.
Nah, it has to do with The Man and his job. Or what was his job before he got laid off a few weeks ago. Like I said—nothing like my fantasies.
Anyhow, after a minor breakdown wondering how we could pay rent with my salary only (I'm a journalist, after all) we started really tightening our belts. We've spent the last few weeks using up the last of our groceries, perfecting the peanut butter and jelly sandwich (I'm gagging just thinking about eating another one of those anytime soon), and dumpster diving for breakfast. Just kidding about the last one.
But in all seriousness, this was a lesson in frugality. Sure, it might have led to me begging on a street corner with a sign that read "Two bum knees. Can't work. Please help." Or something like that. But at least we would have curbed our eating out problem.
Thankfully, things don't have to get that far. The Man was offered a job today. Talk about a blessing.
And with that—and no health-related news or musings—I'm off to celebrate. And, no, it will not involve pb&j. At least not today.