Project Push-Up: There's an App For That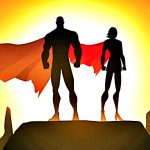 photo by darin barry
Tarzan does push-ups, too.
Of course by now you're wondering how my Project Push-up is going. Do I have massive guns? Do I look like Madonna or Jillian Michaels?
Um, no. But I have realized I can do more than one regular push-up per night. And that, my friends, is success.
In the process of finding my inner Navy Seal, I came across a great iPhone app that plans a day's program based on your lack of skill. It's called Hundred Pushups, which to me is maybe a little too optimistic, but whatever. You start by dropping and doing as many push-ups you can in a row. In case you want to laugh were wondering: 3.
Moving on… You then click for Today's program, which then asks you to do your first set. That's three. Rest for a minute. Drop for four. Minute break. Do two. Break. Three. Break. Four.
While I think a minute break is a little long between sets (especially with the piddly amount of work I'm doing), I do like the way the reps are broken up into manageable chunks. Because instead of quitting at three I did 16.
As I continue with the plan, I'll keep you updated on how I do. The Man has even downloaded the app and is following his own program.
Though I wouldn't say I enjoy the push-ups, I can say it's more fun when I'm following my electronic guide. It's also more exciting considering I'd like to write a post about the day I break 20. Or 10.
Is there any exercise you dread doing? How do you get around to doing it—or do you avoid overall?