No-Fuss Meals to the Rescue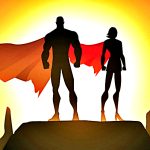 photo by jek in the box
As you know, I've been packing/moving/unpacking for forever a couple weeks. It's in times like these—you know, when the kitchen is more or less nonexistent—that people fall into one of two cooking camps:
a) Those that persevere despite obstacles, saving a sauté pan, a set of good knives, a cast-iron skillet, a sheet pan, and some mixing bowls for the final box. These are the type of people who'll whip up home-cooked soup in the microwave between stuffing wires and shoes and sheets into boxes.

b) The ones who eat out. For a week.
You can probably guess which camp I fall into. (Hint: It's not A.) For the past five days, I've eaten nothing but restaurant food, sandwiches, and snacks. I'm starting to feel it. Today marked the first real lunch I've had in a while, even though it was a childish peanut butter and honey sandwich with a side of tortilla chips.
My kindergarten-inspired snack got me thinking about no-fuss convenience foods. And by that I don't mean Slim Jims from 7-Eleven. I'm talking about meals you've made a thousand times and can rely on in a pinch—when you're short on time, when your food supply is low, when you're feeling particularly health-conscious, or, in my case, when you're still living out of boxes. Here's what I turn to…
…when I'm too tired to make lunch in the morning: Peanut butter and jelly or peanut butter and honey on wheat.
…for a healthy breakfast that I can make the night before: Oatmeal with brown sugar and ground flaxseeds. Other favorite toppings include sliced almonds, berries, honey, diced apples and cinnamon, and crushed walnuts.
…right after a Whole Foods shopping trip: Salad. A big bowl of greens topped with nearly all of the fruits or veggies in my fridge. The Works is made up of romaine, ribbons of carrot, thinly sliced radishes, matchstick red pepper, cucumber slices, some string beans if I have them around, cheese (preferably feta), and a few apple slices thrown in for sweetness. Tomatoes replace the apple when they're ripe and red—not firm and yellowish pink. The whole thing is topped off with extra virgin olive oil and a (very) generous helping of vinegar.
…when I'm low on groceries: Quesadillas. As long as I have two tortillas and some cheese, I'm set. I get bonus points for adding chicken, sliced red peppers, and barbecue sauce to the mix. Or beans, broccoli florets, and chopped cauliflower. Sour cream and salsa, when in stock, always make it better.
…when money is tight: Mom's tomato soup mac 'n' cheese. This super cheap meal is also fast and—taste before you judge!—surprisingly good. Mix cooked pasta (I like zita, but boil up whatever gets you excited), a can of tomato soup, and ripped-up pieces of sliced American cheese. Top with a layer of cheese, pop in the oven until the cheese is golden brown, and you're done.
…when I have to be at work in two minutes and I forgot to make lunch the night before: Amy's Broccoli and Cheese pot pie. Amazing.
…when I'm home alone and exhausted: A big bowl of cereal and milk. C'mon, like you don't do it once in an while.
What are the meals you turn to in a pinch? And any suggestions for cooking in a yet-to-be-stocked kitchen?