A Case of the Mondays: Humiliation and Hopelessness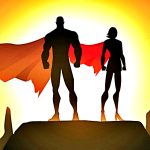 photo by rachelcreative
As much as I loved Thanksgiving—a lot, especially since the dessert table had five pies—it reminded me of a few things I'm not too happy about. And if I can't whine on this blog, then where can I? Besides, it's a rainy Monday. That alone deserves a little bit of complaining.
Here's my gripe: The whole act of getting from Virginia to Massachusetts is humiliating when your knees are lined with chewed-up cartilage. Forget that sitting for an hour and a half on an airplane makes my joints feel like a vice is tightening my insides. The problem is my mode of transportation.
You see, I have to use a wheelchair. No big deal, you say. You've got to do what you've got to do to heal your knees. That's what I thought the first time I parked my butt in one. But once you're in the seat you realize it is a big deal. People look at you differently. Some soften their eyes like they feel bad that someone so young is trapped in a moving chair. Others are accusatory, as if my normal appearance means I'm faking the whole deal in order to skip the line at the Southwest gate. Even if people aren't thinking I'm a loser, I feel like they are.
Some people tell me not to pay attention to what other people think. It's easy to say when you've never rode a wheelchair. Maybe this is what overweight people feel, as if everyone is noticing their extra pounds and judging them for it. Maybe this is how other people with disabilities—missing limbs, paralysis, or even a limp—feel when they go through the airport. I sympathize with them.
In the end, it makes me feel crummy about my knees, about the fact they're not fixed yet, and about the prospect of them never being fixed. Since my move, they've been sore and easily swollen, and I'm feeling closer to 85 than I am to 27. I fear they'll never be fixed, that I'll be wheeling through the airport for the rest of my life.
I'm hoping this feeling will pass, but for now, how do you get over hopelessness? Do you ever feel humiliated because of your body? What's your solution?