My Kind of Fitness Book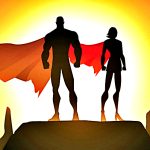 I've mentioned before that I like to read. If money weren't an issue, I'd read a few books a week. (I tried that before. Needless to say, I now pace myself to avoid going broke before rent is due.)
That said, I've never been much of a fan of health and fitness books. The few I've read are snooze-fests full of info I already know. If I'm going to spend time with a nonfiction book, I want a few guarantees:
1. That there will be information I haven't read in magazines, on blogs, or in news articles on the latest research.

2. That my eyes will not glaze over as the author outlines the difference between fat and carbs and resistance training and cardio and blah, blah, blah. Zzzzz…

3. That I don't want to punch the author for being annoyingly perfect.
So when Charlotte asked me to read an advanced reader copy of her book, The Great Fitness Experiment: One Year of Trying Everything, I was a little worried. I love Charlotte's blog but I feared her book would take on the typical fitness book tone—boring.
The first thing you should know is that Charlotte's book is just as hilarious as her blog (and if you haven't read that yet—go.) And anyone who can make a Princess Bride reference and successfully use the word wussitude in a book about working out has my seal of approval.
The basics: Charlotte spent a year as a lab rat, testing out fitness fads (CrossFit, HIIT, kettlebells, and on and on) and diet plans (going primal then vegan). It's an awesome overview of different workouts, each with a personal accounts that include smart points like this: the leg extension machine murders you knees. Amen.
But what I loved even more were Charlotte's personal asides. She takes an honest look at her fight with compulsive overexercising, disordered eating, even an assault that instigated many of these behaviors. It's at once informational and comical and, between laugh-out-loud jokes, really moving.
So I thought I'd leave it at that, but then I though: There's a possibility that these guys might not know what I'm talking about when I say the book is conversational and funny in a way other fitness books aren't. So here are two of my favorite gems, totally unrelated to the point of the book (I'll leave that for you to read).
"Note to scientists: if [Victoria Beckham] gets any tinier, then she will most likely implode, and you will finally get to study a black hole up close."
And maybe I appreciate this since I'm a total word nerd, but:
"If I were a real fitness professional, I'd make you wade through pages of randomly BOLDED and CAPITALIZED stuff with lots of extraneous punctuation!!! and hyperbolic promises (You WILL get the RIPPED BODY of your dreams in just 25.2 days by just changing your thought patterns!?!?! Oh, and maybe doing some crack.)
Seriously guys, it's totally worth a buy. It drops in January but you can preorder it on Amazon now
.