How To Become A Healthy Living Blogger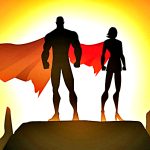 photo by d. sharon pruitt
Today more than ever it feels like healthy living bloggers are a community. There's the Healthy Living Summit and Healthy Living Blogs. And, well, we all just love each other. In the spirit of inclusiveness, I thought I'd reveal the secrets of being a Health Living Blogger for those who may not belong to the club.
So here are the five rules of healthy living blogging, summed up in this handy-dandy acronym: N.U.T.S.O.*
To be a healthy living blogger you need hefty doses of …
Narcissism
Think you're just kinda so-so? Get an ego, man. You can't possibly blog three times a day (or even once, for that matter) if you don't think you're pretty great. We health bloggers assume we have something worth saying, after all.
Unlimited funds
Pecan butter. Goji berries. Coconut water. Do you think these things grow on trees? (Don't answer that.) These things are expensive, so if you're planning on being a healthy living blogger, make sure your bank account is well-stocked. Otherwise, how will you afford bottles of kombucha when it's re-released?
Time
Now would be a good time to break up with all your friends. And mother. That's because blogging once a day takes time. If you plan to blog multiple times a day, you better have a good chunk of time during which you'll reveal your wonderfulness to the world.
Self-depreciation
As much as you might like to stroke your pretty little ego all day long, hold off. Readers like nothing else than to know our favorite bloggers are made of flesh and blood. So blog about your faults. For instance, if you were to, say, have a disease that turn your feet into torches, don't hide the fact from your readers. If nothing else, it will make them feel better about themselves.
Obsession
This one goes without saying, really, since no one in their right mind would spend countless hours a day blogging if they weren't obsessed. Non-obsessed people do not photograph their food. They do not move food that's about to be cold to a different spot just to get the best lighting. They do not document their workouts. And they most definitely do not stalk other people's blogs to find out exactly how they lived their day.
As you can see, the road to becoming a healthy living blogger isn't easy. And it's not for the faint of heart. Frankly, to maintain a blog, you must be N.U.T.S.O.**
* Said with love and a hefty dose of sarcasm.
** You know that, right?