Tracey & The Man: The Incredible Story of Happily Ever After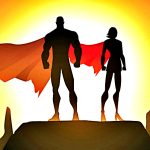 OK, as promised yesterday, the abridged version of how I met The Man. Wei-Wei asked if I had ever told the story. And, in fact I haven't. But it's a good story, and since we're two days from our fourth anniversary, this is a good time to tell it.
I was working at a restaurant, trying to make up all of the money I spent while studying abroad in New Zealand. There was this really cute bartender who never spoke to me and barely gave me the time of day. Of course, I wanted to date him.
So I kept dropping blatantly obvious hints that I was head-over-heels for him. For instance, I would smile at him when I got to work. Sometimes I'd joke around. I'd say flirty things like, "How was your weekend?" Once in a while I'd touch his arm while I snaked around his side to grab a new bottle of ketchup. One time I invited him to hang out with a bunch of us after work. The Man wasn't super perceptive and claims he had no idea I liked him.
After I graduated from college and when I had two more weeks left in Baltimore before I packed up my life and returned home to Massachusetts, I told him I liked him and, you know, would like to hang out some time. He said he was seeing someone—but I was nice. Nice. The worst word you can possibly call a girl who likes you. Then he blushed and asked, "Is it hot in here, or is it my sunburn?" I walked away.
My friend, and fellow waitress, told The Man he was making the biggest mistake of his life. (He was.)
And then someone had to leave work early, so The Man and I and all of life's awkwardness had to close the restaurant alone. Naturally, I hid in the kitchen and pretended I was busier than I really was just to avoid extended, horrible humiliation.
That night, I went home and cried because 1. I felt like the biggest loser of all of Maryland and 2. I knew we were meant to be together and 3. he was too stupid to realize it. Like good friends, my roommates assured me we were meant to be together but he need time.
A week later, The Man told me he wanted to date. Inside I smirked and tried not to say, "Told ya so." Then, a week later, I moved back to Massachusetts.
I spent the next month in Europe with three friends and no cell. I'd shoot The Man a quick e-mail when I found the random Internet café and had time to battle the dial-up. It usually included things like "We're in Rome and just saw the Colosseum. MOST AWESOME THING EVER!" or "Just got to Prague and walked the city streets. MOST AWESOME CITY EVER!!" Other times, I'd send him post cards or letters with the jumpy handwriting that happens during train travel.
You'd think we would have broken up, what with the month-long European trip, living 500 miles away, and us having dated for only eight days. But instead we did the whole long distance thing, which meant staying up ridiculously late and learning everything there was to know about each other over the phone. Thankfully neither of us had a real job yet.
When I finally got a real job, I moved to Philadelphia, which was still two hours from Baltimore, where The Man had his own real job. But it was practically next door considering I had been living in Massachusetts for four months. It wasn't until a month before The Man proposed that we lived in the same city.
We decided not to split up after that and have lived in the same place ever since. Oh, and I do remind him every so often that all of his marital bliss can be attributed to my un-Tracey-like guts one July day.
How did you meet your boyfriend/girlfriend/spouse?