On Being a Writer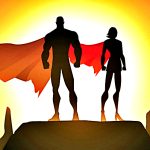 photo by okaycitynate
Yes, this is how you write. Sit in front of the computer like this long enough and suddenly there will be 1,000 words on your screen. I swear.
There's one question I get asked more than any other, and it's this: How do you have such gorgeous hair?
Kidding. I actually have pretty sucky hair. I got my mom's thin locks while my sister stole my dad's thick hair. I spend hours a day trying to coax body into this mane while my sister takes her thick, Pantene hair and throws it up into a messy bun. Go figure.
So the real question I get asked all the time is: How can I become a writer? There are more answers to that question than I'll give mainly because if I'm going to reveal the secrets to the universe I'm going to do it in book form. Or, you know, I might just feel like I'm not one to advise on the subject.
To set things straight, I'm a writer. I have been since 2002. Well, I've been a published writer since then; I think I always considered myself a writer. I'm a journalist, but I'm not a writing rock star. I don't write for the New Yorker or The Atlantic, and there aren't Pulitzer's hanging around my house. (But if there were, they'd be locked away in a safe that was hidden beneath my bullet-proof floor boards.) That's my disclaimer.
After eight years—sheesh, I didn't realize I was so old—I've come to realize there are four main steps to being a writer.
1. Read. As kids, we learn grammar and vocabulary by reading. But it's also the way we learn how to structure sentences and how to tell stories. As adults, it's still the best way to improve your writing. Read sucky stuff and learn what you don't like. Read the good stuff and mark up what you love.
2. Write. Aside from the fact that's it's physically impossible to be a writer without actually writing, it's one of the best ways to improve your ability. Look back to something you wrote five years ago. Do you see mistakes or faults? I do, and that's because I'm constantly learning, constantly writing, and always improving. Practice is how I get there.
3. Pitch. The only way someone is ever going to find out about your awesometastic writing is if you show them. So if you want to be a journalist, query online magazines, big sites, or your local newspaper. By doing small work first you can bypass journalism's catch-22: "We only publish writers who have published clips." Start small and build clips, then pitch to larger pubs.
4. Grow thick skin. Writing is as much about rejection as it is about words, and that goes for newspaper and magazine journalism as well as book publishing. You're going to get rejected. Period. So move on and don't think it's about you. It's not; it's just the way things are.
That's it. Sure, there are a gazillion other tips I could give you about researching the newspapers and magazines you'd like to write for, or about reading about journalism to learn the industry. Or interviewing, or researching, or finding the best details. I could talk about pacing and suspense. Or why understanding format (say, the inverted pyramid for hard news) and style (is it internet or Internet?*) are so important. But it all boils down to this: Read, write, and get your work out there. Then push through rejection until you hit success.
Any questions?
*It's Internet, by the way.