Brought to You By The Biggest Loser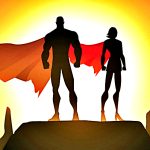 photo from winningman
Tuesday is the highlight of my week not because I look forward in some twisted way to having a whole three days left of work but because of Lost. After seven painful days of wondering what's going on, who's going to die, who's coming back to life, who's possessed by a cloud of smoke, I can finally watch a new episode. (And get confused all over again. But that's another story.)
Anyhow, before Lost is The Biggest Loser, and though I've never been a fan, I've watched the last few episodes. And they got me thinking: The show provides some pretty good tips on healthy living. So in honor of tonight's episode, I bring you my Biggest Loser Tips For Being Healthy. (And yeah, NBC, I though of it first.)
If you're totally, sickly unhealthy (and, let's face it, if you're reading this you probably are), don't give up! There is hope for you yet. I used to not care about my health and do things like sit on the couch and watch The Biggest Loser, but then something in me clicked. "I can't live my life like this," I thought.
Of course, I didn't just run outside. I needed to take baby steps. So I started by chewing one stick of Stride ™ gum each day. The minty fresh flavor kept me satisfied even when deep fried Twinkies were calling my name. If it weren't for Stride ™, I'd probably be snacking on one right now. Thanks, Stride ™.
From all that gum chewing, I lost 10 pounds. (And I got TMJ, but let's not talk about that right now.) At that point I felt more confident to start working out. I took it slow at first, using my Asics ™ running shoes to walk around the block. I love the great colors the brand offers, but what I love even more is the quality. I don't know where I'd be without my Asics ™. Probably sitting on the couch.
The more I walked, the stronger I got. Pretty soon, I was able to walk to lunch instead of driving to McDonald's. The best part is that there was a Subway ™ right across the street from my work, so I could get a fresh meal every day. The $5 footlongs were a perfect cure to my lunchtime hunger, and if I ordered the Veggie Delite I could pile on as many toppings without worrying about fat and calories. Oh, and Subway ™ is so delicious so it didn't feel like I was eating light!
Another big thing that helped me become the health nut that I am today was getting enough water. I bought my Brita ™ so I didn't have to worry about carrying a water bottle around. I just replace the filter every three months, then fill up the pitcher with tap water. So easy. When I'm thirsty, I just refill my water bottle or glass with the clean, pure taste of Brita ™ water. It's a good thing for Brita ™ too, because without enough water I could get dehydrated.
One of the things I used to hate most about being overweight was getting so sweaty just walking around the block. If only I had known about Dove ™ soap. Now, after a six-hour workout at the Ranch gym, I come home and use Dove ™ to get clean and fresh-smelling without any of that soapy residue other brands leave behind. And after a long shower there's nothing better than drying off with a plush towel made from Cotton ™. Truly the fabric of my life.
So next time you're sitting on your couch watching The Biggest Loser, consider how you life might change when you become healthy.
Time to make dinner. Mmm … Lean Cuisine ™.