The Stranger Who Made My Week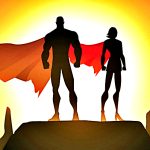 photo by greekadman
Strangers are underrated. Hear me out.
Sure, they drive slow when you're late for work, cut to the front of a long line when you've been waiting for 20 minutes, and forget to say thanks when you hold the door for them. (You know who you are.) But sometimes they surprise you.
The other day at the gym, I decided to try a new exercise I saw on ESPN.
(If you know me, you probably think I'm joking right now. I spend most of my time begging The Man to switch it to any other channel. But it was on, and the station was running some footage of an athlete—see, I don't even know what sport he plays!—doing physical therapy for a knee injury. So I rewound it and watched him do the move again. So there you have it. Me + ESPN.)
Anyhow, the other day I wanted to try the move. It's a modified version of the assisted squat I do with an exercise ball. Usually I just sandwich the ball between my back and a wall then use a single leg to squat down. ESPN squats (I just coined that. Watch for the trademark) use a resistance band looped like a figure eight around the calves for extra resistance. The normal one-legged squats were getting a bit too easy for me anyhow, so I thought it was a good time to switch things up.
Then in the middle of squat No. six a stranger passed by. "Wow, that looks hard," she said. "You go girl."
That's right. A random woman thought I—the gimp—was doing a hard exercise. I wanted to shout to her, "Look at you—walking! You go girl!" But instead I did some lame smile-and-nod thing with a giggle in there for good measure. I think I was too shocked or flattered to even mumble a coherent sentence.
So there you have it: A stranger made my day week. It's good to know that I can be so injured that walking four blocks leaves me limping but I can still do some crazy things at the gym. And that gives me hope.
Has that ever happened to you? What did they say? Or has anyone ever told you that you're the stranger that made their day?
PS. If you want to give ESPN Squats a try, do this:
Loop a resistance band around one leg, give it a twist, then loop it around the other. It should form a figure eight shape.
Make sure the band rests around your calves.
Place an exercise ball between a wall and your back.
Keep one foot on the ground in front of you, then lift the other leg so it's parallel to the floor. You should feel resistance from the band when your leg is raised and straightened.
Squat then return to the start position. You should feel resistance from the band as you rise from the squat position.
Repeat 30 times on each leg.