Better Balance: Train On A Bosu Ball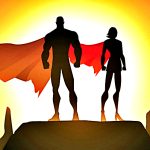 photo from bosu
Before my last round of physical therapy, I had never used a Bosu ball. I had seen them littering the gym's weight room from time to time, but I assumed they were glorified steps. And I'm not a step aerobics kinda girl.
Halfway through my PT tour, my therapist brought out the Bosu and forced me to do all sorts of crazy things on it. I say crazy because any exercise that involves coordination is crazy to me. (Yep, I'm a clutz.) But improving my balance is one of the keys to my rehab, so I complied.
And wouldn't ya know it was quite challenging. Instead of doing one-legged squats on a step, I did them on the Bosu and engaged all of my leg's muscles—plus my core. I learned that exercises on the Bosu better emulate how our muscles are used in real life. Oh, and I also learned that doing anything on the Bosu is about 10 times harder.
When I joined my gym last summer I was excited to see they stockpiled Bosu balls. Maybe they are for a Bosu revolution. Maybe people at my gym are really unbalanced. I don't know. Either way, I've been using it regularly, and I can see my balance improving. Sure, I still stub my toes constantly and walk into walls, yelling, "Who put that there!?" Baby steps.
Well, now that the whole New Year's Resolution club has taken over my gym, I've been missing out on my Bosu activities. And then The Man did something crazy.

My new present
He bought and built a Bosu balance training system for me. That's right. I have my own Bosu ball and, um, holster. I can use the ball alone or I can lay it in a tray that connects to a handlebar (convenient for moves I'm not yet graceful at). The stand also has two resistance bands so I can lift while balancing. Easier said than done.
I'm not one to buy exercise equipment willy-nilly. (Not counting my yoga necessities or my foam roller, this is my first piece of real gym equipment, if you can call it that.) And, sure, The Man got this on major discount when Amazon.com was having one of those one-day sale thingies he loves.
In honor of my new home gym, here are two exercises you can do with a Bosu.
Bosu Step-Ups
Equipment: 1 Bosu ball and 1 medicine ball or dumbbell
Do: 30 steps per leg
Hold a medicine ball or dumbbell at waist level.
With your right foot, step onto the center of the Bosu ball.
As you step, bring your left knee toward your chest and raise your arms above your head, as if you were trying to touch the medicine ball to the ceiling.
Move your left leg down to the floor, and bring the medicine ball back to its starting position.
At the same time, bring right foot back to its starting position.
Repeat for a count of 30 steps on the right leg. Switch and repeat with left leg.
Bosu Push-ups
Equipment: 1 Bosu Ball
Do: As many as you can without a) dying or b) collapsing and head-butting the Bosu's hard backside.
Flip your Bosu ball over, so the blue ball is resting on the floor.
Grab each side of the ball's platform with your hands, and get into push-up position.
Maintain balance as you complete each push-up.
Do you own or use a Bosu ball? What's your favorite exercise on it?