Healing Pain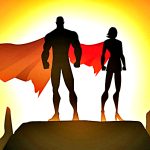 It's been 129 hours since I got PRP injections in my left knee. So I've been counting a little, only because of the shooting pain running from my lower thigh into my shin. No biggie.
OK, I'm being overly dramatic. It's really not that big of a deal if this treatment will heal my knee pain. In fact, I'd see this week of pain and raise it another two if it meant my knee was guaranteed to improve.
Truth is, this time around is going better than last. (Yep, still hurts when I put weight on it, still has a hard time bending on its own, and still looks a little puffy–see exhibit A, above) My knee is healing from the injections faster, and it's not nearly as black and blue as it was last time. The swelling is going down faster, another good sign. For this second set of injections, my doc didn't inject directly into my quadriceps tendon—the one that connects the knee to my thigh—since I had been feeling pain there from the last treatment. The result: There's major improvement there. Sigh of relief.
Just like last time, I took it really easy the first three days. I skipped work on Friday, got injections at 8 a.m., then spend the following three days with my butt firmly planted on the bed. I learned a lot about home improvement (thank you HGTV), gagged just a little at something illegal Paula Deen was making, and attempted to concentrate on a book. That didn't work.
If it weren't for the stabbing pain, this weekend would have been one of those relaxing vacation sort of weekends. My husband—who served as doctor, chef, maid, water boy, crutch-getter, door opener, and pillow-fluffer—hunkered down with me. We watched Season One of Fringe, which means I'm addicted to yet another TV show. It seems to be a trend that happens during PRP recovery. Last time: Bones.
Since each morning my knee improves, I'm hoping I'll be back to my pre-PRP self in time to have a semi-productive weekend. In case I'm couch bound for another Saturday-Sunday…
What's your trick for staying sane during recovery?